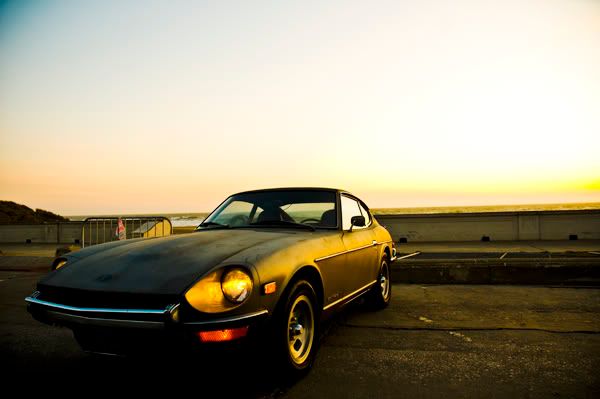 You know, it wasn't until I bought this 72' 240z a few weeks ago that my passion for cars was really rejuvenated. When I started taking core classes for my photo journalism major last semester, I just took a breath and steered clear from spending too much money and time around cars.
Ended up spending money on camera equipment, yada yada. Left the s12 dangling in my garage, didn't do much with it I suppose. But the Z has always been some sort of dream car for me and at the time I had always thought "it'd make a classy car to cruise in." So after spending a few months searching for the right car, I'd finally found it.
It's a solid 72', the interior is wrecked, a bit of metal was hit, but the body is super straight and it's l24 was rebuilt, coupled with triple webers. The car was the right price and after a couple burnouts in a lot with it's excited previous owner, it was back home with me.
Had some free time today and I drove it on highway 1 along Ocean Beach and it feels just right. Gotta say, I've never been so excited about owning a car or planning out its future.
The car needs a lot of love, so this "restoration" project begins this summer.